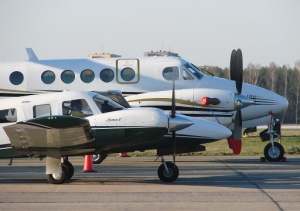 Aircraft owners who move up to larger more complicated twins, turbines, or turboprop aircraft will often find that even after the required
initial training
or type rating required, most insurance companies are asking for mentor pilot time. In many cases, insurance companies will require a period of time spent flying with a mentor pilot.
Flying with a mentor pilot will positively affect your coverage and your premium!
For an owner who plans to fly his personal turboprop as a single pilot, insurance companies may only write $5 million to $10 million policy. When training under a mentor pilot, the cap is generally $25 million to $50 million.
Approval for unrestricted single-pilot operations is based on an individual underwriting review of each account. Assuming an account meets the criteria to make it an acceptable single-pilot risk, an additional premium of approximately 35 percent may be charged and the pilot will often be required to maintain a "Pro-card"-recognition of the highest standards of proficiency-in the make and model from an appropriate training facility like P3air.
An insurance approved and recommended Mentor Pilot – worldwide
I am a qualified training captain and mentor pilot. With a flight experience of more than 30 years, thousands of hours in King Airs, you not only gain experience in your new aircraft, but also the confidence that comes from honing your skills with a right-seat veteran at your side.
With full access to appropriate flight simulator, not only can I prepare you for your first, required initial training course, we actually can sign you off.
With my dedicated guidance as your mentor pilot, coupled with my expertise in Garmin G1000/530/430, Avidyne, and other advanced avionics, I can help you to make the most of this valuable experience.